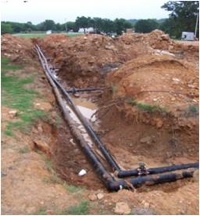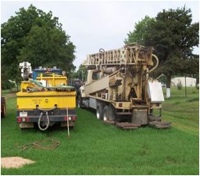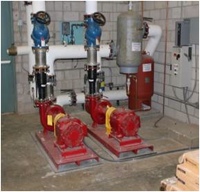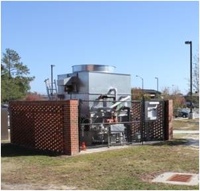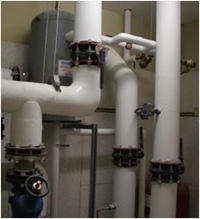 Geo-Energy Solutions is one of the nation's most successful geothermal installation companies. Since 1992, we have completed more than 1,000 successful commercial and residential loop systems. These installations are saving money for building owners on their utility bills throughout the southeastern United States.
We have operations centers in Cabot, AR and Columbus, GA, allowing us to respond to customer's needs quickly throughout our region.
The Department of Energy showcases Geo-Energy Solutions projects at Georgia Tech in Atlanta, GA, and Cedarville School District in Cedarville, AR. Geo-Energy Solutions uses the latest design and installation techniques to install the highest quality engineered installation of all components in Geothermal Heat Pump systems for buildings, including: loop fields, heat pumps, controls, piping, insulation, fluid components, mechanical rooms, hybrid technology equipment, and more. All to insure optimal performance at reasonable cost. Geo-Energy Solutions is one of only a few geothermal design and installation companies to install complete commercial buildings and residential developments utilizing geothermal technology.
Geo-Energy Solutions has experience with installation of all types of geothermal loop fields, including: vertical, horizontal, and lake loops. Geo-Energy Solutions is the only loop installation company to offer a 25 year warranty on loop performance. Our installations meet ALL equipment manufacturer specifications and environmental requirements.
Geo-Energy Solutions has a comprehensive and experienced staff to provide commercial and industrial geothermal project management, consulting and installation. HVAC load and specification consulting services are provided for engineering and architectural requirements. Geo-Energy Solutions offers toll-free sales and technical support. Geo-Energy Solutions has been installing geothermal systems since 1992 and has excellent financial strength. Our management expertise in Geothermal Heat Pump systems ranks us among the leaders in the industry.
Key Management Team Members
-Jack Pezold, Owner, has committed resources to the development and application of Geothermal technology. His vision for cost effective, environmentally friendly, heating and cooling systems led him to enter the Geothermal systems installation industry. Since his acquisition of Geo-Energy Solutions he has grown it to be one of the nation's largest and most successful geothermal installation organizations.
-David Bean, President, has installed thousands of tons of Geothermal Heat Pump systems with over thirty years experience in the industry as manager and marketing professional. He is IGSHPA, TETCO, ClimateMaster, and WaterFurnace certified. He also holds ACCA certification in duct design and installation. He oversees all projects, and has helped provide financing to customers.
-Bard Phillips, Field Services Manager and Senior Project Manager, has designed and installed more than 1,000 geothermal systems with over thirty years experience in the industry. He is a mechanical engineer, and was the Project Manager for the 4,500 ton residential retrofit at Little Rock Air Force Base, and the for the Department of Energy Demonstration Project at the Cedarville School District. He is IGSHPA, Water Furnace and ClimateMaster certified. He is ACCA certified in duct design and installation.
-Kevin Payne, Operations Manager, oversees the operations centers in Arkansas and Georgia supporting the field service teams and managing procurement, logistics, and all accounting/financial functions. He previously managed the law office at a US Air Force Base and coordinates all work with government contracts, reporting and compliance. Now, with over ten years experience in private business, he provides support to our customers from all operations.
-Mark Jarrell, Senior Analyst/Engineer, is a Professional Engineer with over thirty years experience in managing energy. He has designed building systems and controls in industrial and commercial facilities in the United States and overseas, and is certified in energy management and analysis.