Geo-Energy Solutions Services
Geo-Energy Solutions provides a range of services from complete geothermal system design to any portion of the installation of geothermal systems.
Geothermal systems will enable you to achieve the best interior air quality at the lowest overall heating and cooling system costs.
Distributor of ClimateMaster Water Source Heat Pumps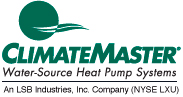 Geothermal Conductivity Testing
Boring of test well(s), performing 48 hour in-situ thermal conductivity test, and providing analysis and reports.
Geothermal Loop Field Installations
Design and installation of all types: vertical well, horizontal, and lake loops; including header piping to the building/pump room.
Geothermal Mechanical/Pump Rooms
Designed and installed for each individual loop field and interior circulation piping combination to provide efficient, reliable, and low maintenance performance.
Geothermal Interior Piping and Insulation
Design and installation of interior geothermal supply/return loop circulation piping, utilizing HDPE piping for long life and efficient operation.
Geothermal Heat Pumps and Installation
Supply geothermal heat pumps for all applications. Also, provide design and installation of heat pumps connecting to circulation piping, including ductwork, equipment closets, electrical and control.
Geothermal Hybrid Technology Installation
Design and installation of hybrid equipment for supplemental cooling, utilizing dry coolers and evaporative coolers, with heat exchangers tied to the circulation piping.
Geothermal System Controls
Design and installation of DDC controls to monitor and control air quality and loop operation.
Geothermal Systems Maintenance/Upgrade/Troubleshooting
Geo-Energy Solutions experience with every portion of geothermal system equipment and installations allows us to help you obtain optimum performance from your system.